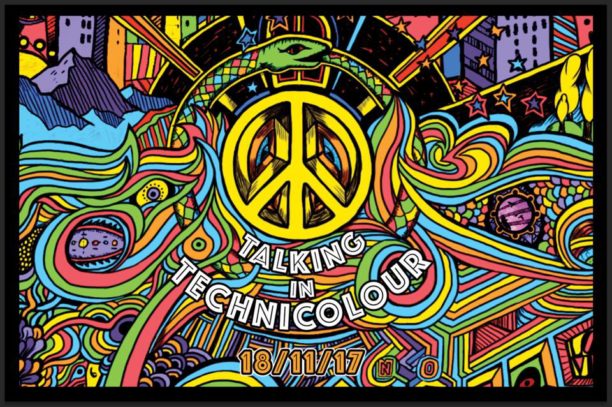 Over the moon to announce that we are going to be playing a special secret gig in Leeds on the 18th November. This gig won't be advertised anywhere other than here!
We wanted to do something extra special for the people we love, …Our friends and Fans….
Named after our debut album, Talking In Technicolour is a 24 hour intimate experience of Cinematic, Psychedelic and Electronic Music to be shared with friends new and old.
——————————————————–
Live music 7pm – 3.30am, the rest will be streamed over facebook/youtube for you to optionally tune in from home.
———————————————————
Dear Friends, old and new
Almost 4 years since our previous event "Outbreak" took place and not a week goes by without being asked when the next event will take place. So it gives us great pleasure to announce that the wait is finally over…
"Talking In Technicolour" will take place at 7pm on 18th November in the city of Leeds.
You can get a invite by dropping us a message through our social media.
Although we have only invited people we know and not advertised this event, please feel free to invite anyone you think would enjoy the party. We love to meet new people. With the event being 'not for profit', every penny donated will be spent on making the night bigger and better!
Hope to see you all there.
Martin & Howard x
—————————————————-
Part 1 of 3 MEETING POINT AND PRE-PARTY @ Distrikt
7pm – 10pm. TWO GUYS
Part 2 of 3 THE MAIN EVENT @ THE CHAPEL
11pm – 11.30pm RUBY AND THE WILDE
12.am – 12.30am HELLO COSMOS
1am – 2.30am LOST COLOURS LIVE / NIGHT SHADES
2.30am – 3.30am -EDDY TEMPLE MORRIS DJ SET.
PART 3 of 3 THE AFTERPARTY (streamable over youtube/facebook right to wherever your afterparty may be)
4am – 7pm LOST COLOURS' 14 hour Mammoth DJ Set.
6pm -7pm. TALKING IN TECHNICOLOUR – The Album Stream (IN FULL)
More info below…
————————————————–
TWO GUYS
After smashing the Edinburgh bar scene and holding multiple residences under the guise of "Two Guys", Craig West and Ross Tolley will be offering up a eclectic kaleidoscope of funk, soul and disco edits from the past, present and future. Enjoy the sound of Two Guys with a special "Talking In Techncolour Cocktail" while catching up with everyone.
***Show your event access card at the bar as the Distrikt team have kindly agreed a 20% DISCOUNT on cocktails, there's also happy hour prices on selected drinks! ***
————————————————–
RUBY AND THE WILDE
We're over the moon to announce that multi instrumentalist Paddy Rogan and producer/lyricist Matthew Rubrick will be performing tracks from their new act, "Ruby and the Wilde". Expect a sonically beautiful selection of soundscapes and story tales featuring elements of Funk, Electronica, Hip Hop and Spoken Word
——————————————————-
HELLO COSMOS
Robinson Boone (AKA Ben Robinson) has been busy tinkering in the studio for the last three years with a gang of friends collaborating on some experimental studio recordings. The record has been mixed as a full LP and Boone has got a few of the gang back together to perform this debut show as HELLO COSMOS. His older brother Simon joins them on drums along side Ex-Deathretro bandmate Adrian and Ex-Slamboree member (currently touring with Placebo) Angela Chan.
——————————————————–
LOST COLOURS LIVE / NIGHT SHADES
The night's headline show will be coming from ourselves "Lost Colours". First off we'll be playing a selection of tracks from our debut album with our 8 piece band, taking you on a magical cinematic journey. Heavily influenced by Psychedelia and Electronica, we'll be weaving an ever-evolving cinematic blend of tripped-out musical tapestries for the mind, body and soul. Combining both our electornic show "Night Shades" with the full live show.
———————————————————
EDDY TEMPLE MORRIS DJ SET
The final performance of The Chapel's events will be Eddy TM playing a one off Psychtronica DJ set, Eddy's successes are massive – working for MTV, XFM, Radio One, ITV, Channel 4, Virgin Radio and endless other projects.
Just over a year ago Eddy came into Lost Colours' lives where he became one half of our management team and a great friend. Eddy's musical knowledge is unparalleled and we couldn't think of a better person to finish off the second part of this musical adventure.
—————————————————-
—————————————————-
THE AFTERPARTY(Streamed to your home over facebook/youtube)
LOST COLOURS' 14 HOUR MAMOTH DJ SET.
We would love to be able to play host to everyone at an afterparty but this just isn't possible, so we decided to put together a mix of 14 hours of music that has inspired Lost Colours for you all to end the night with. Set to a visual show and streamed live through the website below, expect to be taken through Psychedelia, Electronica, Classical, Cinema and beyond…the ultimate musical adventure for all the naughty 24 hour party people!
(Please note that this stream is a one off event and will be deleted afterwards!)
www.lostcolours.co.uk/24hourlove/
—————————————————-
TALKING IN TECHNICOLOUR – THE ALBUM STREAM
As a final treat to all those who've been with us from the start we're going to spend the last hour playing our unreleased album in full… we couldn't think of a better way to round this experience off!
OPTIONAL FANCY DRESS AND THE THEME.. "TECHNICOLOUR"